📅
They seem to have brought the launch forward. It's now saying Thursday 11am NZT!
On Friday at 2am (NZT), we'll get to see Meta's not-that-long-awaited Twitter killer, called Threads. It's already available for pre-order on the App Store, and there's a Google Play listing as well. It seems it had the code name "Barcelona" internally.
Its home on the web will be threads.net, which is currently a countdown with a 3D animation of the Threads logo, in Instagram colours, that you can rotate.
There's also an easter egg of sorts in the Instagram app. If you search for "threads" a little ticket icon will appear in the search bar. Click that and you'll get your personal invitation to the launch.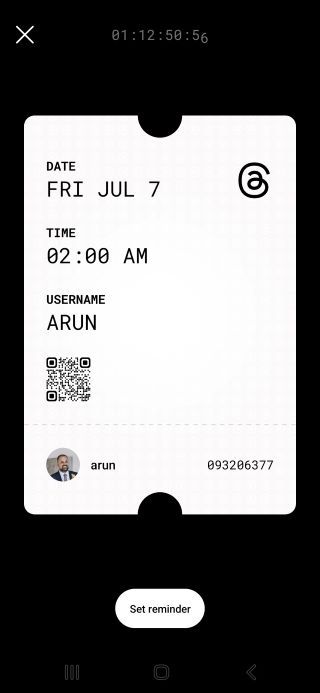 But will it be successful?
Well, the timing of the launch can't be a coincidence. The rate limiting fiasco over the last weekend caused a lot of discontent amongst the people that I follow. And the people I don't, for that matter - even the algorithmically-generated "for you" section had a lot of Twitter hate in it. People have been looking for a place to go for a while. Mentions of people wanting Blue Sky invitations were going up.
Since news of the Threads launch started surfacing over the past 24 hours, one thing that has caught people's eye is the privacy policy on the App Store listing. It has a list of "Data Linked to You" but it's actually the same as the list for the Facebook and Instagram apps. Yes, a concern, but no more a concern than it already has been. Admittedly, Twitter has a smaller list here.
Apparently Threads will use the ActivityPub spec, which is what Mastodon is based on. If they federate, it might finally be an easy way for the masses (me included) to get onto the fediverse.
I was a very early adopter of Instagram, being able to nab the @arun username. That means I get to keep it for Threads as well. And your followers will also come along for the ride. For some reason (and I should try and figure out how this came to be the case) I have over 17,000 followers on Instagram. I get to keep them. They were probably pretty disappointed Instagram followers, given the content I posted. They'll be even more disappointed reading my text-only content I'm sure.
I expect that there are a lot of people on Twitter who aren't on any Meta properties, so it will be interesting to see whether they join this one. Instagram skews young, as well, so will Threads be the same?
I will give it a go, and see if I can capitalise on the 17k followers that I'll bring with me. Surely some of them will be massive nerds that have a vague interest in what I say!
What about you? Are you going to sign up? Let me know in the comments, on Twitter or, once it's launched, on Threads. I'm assuming I'll be at https://threads.net/arun.